Greater Cleveland Senior Softball (GCSS) 2013 Champs
Our Hats are off to the Green Rick Roller Machine for winning the GCSS league championship. They won the championship in two games with great hitting, some super fielding plays, and wonderful sportsmanship. The Yellow Team had the lead at times and kept coming after the Green Team but just could not get those hits when needed with men in scoring position. There was a nice turn out of players from the two teams that did not make the playoffs. Maybe we should play more games in September as the weather Tuesday and today was fantastic.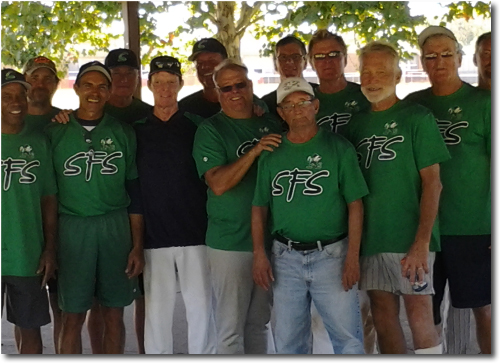 A special thanks goes to our commissioner for handling what seemed like an impossible schedule in the last few weeks. Joe did an excellent job in keeping the teams competitive through out the season.

The Leagues next meeting will be the first Thursday in November, the 7th! It will start at 10 am at the Brook Park Recreation Center.

On the agenda will be nomination of officers (2 year terms).

Think how you can help the league by becoming an officer and not a complainer.

As I walked away after the games and saw Joe having to put the pitching screen away I could not but think how few people know how much work someone like Joe puts in that no one knows about. They just show up and play. Do not be afraid to shake Joe's hand and thank him for all of his efforts.