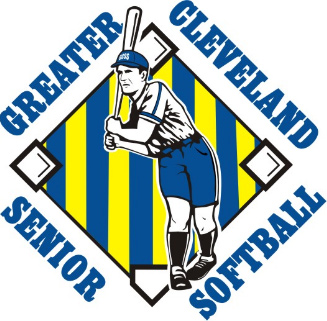 ---
Results of the 2013 Brook Park tournament held first week of May

Tournament Directors were Mike Bloch and Tom Coyne

75 and over won by Pepco from Cleveland managed by Ted Budzik

70 AAA and over won by Mikes Raiders/AMR from Cleveland managed by Mike Bloch

70AA and over won by Sylvania close by Toledo

65 Major and over won by Kaiser Permanente from Cleveland managed by Mike Bloch

65AAA and over won by Universal from Columbus

60AAA and over won by Hawk's Nest from Pittsburgh

60AA and over won by Northeast Ohio Seniors

55 Major/AAA and over won by Fat Nancy from Syracuse, NY

50 Major and over won by Rochester, NY
---
Welcome to the 2013 Men's Senior Softball League
(The best senior softball in Cleveland)
Download the 2013 Registration - Click Here
Financial Secretary:

Jack Salmon

Address:

14340 Kingman Dr.
Middleburg Hts, 44130-2620

Phone:

216-362-0775

E-Mail:
Download the 2013 Summer League Schdule - Click Here
---
2013 Senior Olympics Schedule
Click Here to download the U.S. Senior Olympics schedule that was just recently published.
---
Greater Cleveland Senior Softball (GCSS) is dedicated to the love of the game of softball. Promoting fun and recreation are two goals of this competitive league serving the Greater Cleveland area. GCSS is a non-profit organization staffed by dedicated officers and managers who donate their time and efforts. The league is sponsored by Kaiser Permanente.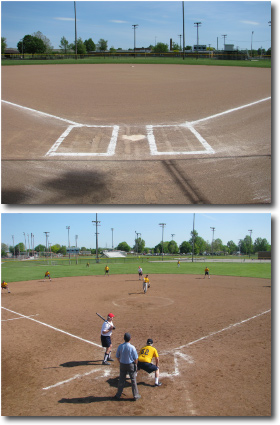 Players 55 and older are eligible. Games are played at the Kennedy Park Softball Complex 6161 Engle Rd on the Forbes and Hufsey fields located between Holland and Sylvia Dr in Brook Park, Ohio every Monday and Thursday morning starting at 10 AM. Two seven inning (double headers) will be played on each field.
Besides a regular season of 36 games, the league also includes a First Half vs Second Half Championship Series, a One-Pitch Tournament, and a double-elimination Playoff Championship. Teams are balanced before the season so that games remain competitive.
Recreational activities include post-game food days, an opening day luncheon, a Dinner Dance in September, and an awards luncheon. Sportsmanship, fair play, and camaraderie are emphasized. League Bylaws, Rules, and a Code of Conduct are revised and approved yearly.
Safety is emphasized with the use of a second first base bag and a separate home plate for runners. A Safety Screen is available for any pitcher that wants to utilize it. Collisions are not permitted and any runner violating this rule is called out.
Additional information about the league and its activities can be found on the other pages of this site.