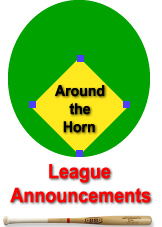 .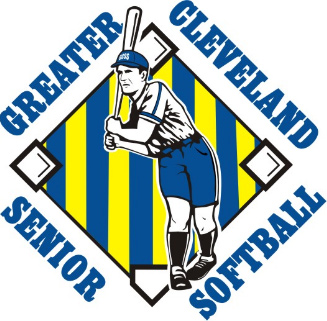 ---
Congratulations goes out to Joe Ferlin, Tom Coyne, Wayne Wrightman and Tom Kulwicki from the GCSS for being inducted into the Wall of Fame. The food was good the company was good, what else could you ask for? The GCSS was well attended at the Banquet. Special thanks goes out to Shelly for having this affair which is a large part in keeping softball alive and well here in Cleveland. It is nice to be over 50 and still be playing a kids game. Sometimes we do not play as well as we did as kids but after a few beers sometimes we feel we play better now.

Happy Thanksgiving
---
Final Standings - Greater Cleveland Senior Softball League
Greater Cleveland Senior Softball (GCSS) 2013 Champs
Our Hats are off to the Green Rick Roller Machine for winning the GCSS league championship. They won the championship in two games with great hitting, some super fielding plays, and wonderful sportsmanship. The Yellow Team had the lead at times and kept coming after the Green Team but just could not get those hits when needed with men in scoring position. There was a nice turn out of players from the two teams that did not make the playoffs. Maybe we should play more games in September as the weather Tuesday and today was fantastic.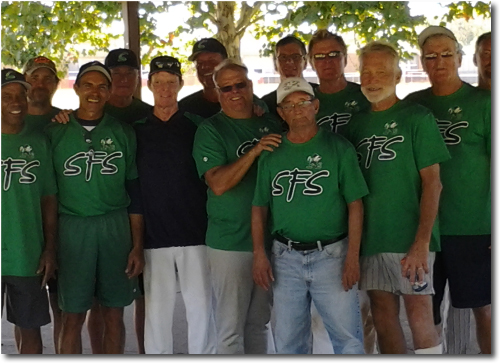 A special thanks goes to our commissioner for handling what seemed like an impossible schedule in the last few weeks. Joe did an excellent job in keeping the teams competitive through out the season.

The Leagues next meeting will be the first Thursday in November, the 7th! It will start at 10 am at the Brook Park Recreation Center.

On the agenda will be nomination of officers (2 year terms).

Think how you can help the league by becoming an officer and not a complainer.

As I walked away after the games and saw Joe having to put the pitching screen away I could not but think how few people know how much work someone like Joe puts in that no one knows about. They just show up and play. Do not be afraid to shake Joe's hand and thank him for all of his efforts.
---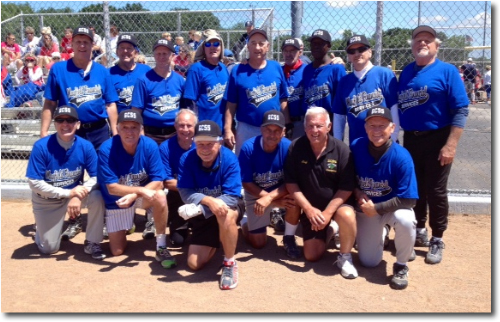 Congratulations to the 3 GCSS teams on their excellent performances in the Senior Olympics just concluded in Cleveland. Almost half of Greater Cleveland Senior Softball's players competed in these US National Senior Games that just ended on August 1.

The 70-74 age team, managed by Joe Ferlin, won the Gold Medal in the "A" bracket. The 60-64 age team, managed by Guy Selinka, won the Bronze Medal. The 65-69 age team, managed by Mike Bloch, earned a Ribbon for its fourth place finish.

These teams had qualified for nationals last year in the 2012 Ohio Senior Games by earning two gold medals and a silver (for the 70-74 team). The next competition for the US nationals will be held in Minneapolis in 2015, so seniors, who want to compete there, must qualify in the 2014 Ohio Senior Games.

Playing for the 70-74 team (sponsored by Mayfield Financial and GCSS) were these GCSS players: Mike Wolanski, Ike Roundtree, Don Novak, Dewey McVicker, Tom Kulwicki, and Joe Ferlin.

Playing for the 60-64 team (sponsored by Seven Hills Lanes and Pepco) were these GCSS players: Tom Pokorny, Bob Oster, Pete Miller, Gary Martin, John "Stubby" Griffin, Dennis Forman, Tom Coyne, Ron Clawson, and Rich Butler.

Playing for the 65-69 team (which sponsored itself) were these GCSS players: Bob Zukerman, Bill Winar, Norm Strelka, Tim Klodnick, Dave Farquahar, Fred Cooper, Aerie Bothwell, and Mike Bloch.

---
Welcome to the 2014 Men's Senior Softball League
(The best senior softball in Cleveland)
2014 Registration - Click Here
Financial Secretary:

Jack Salmon

Address:

14340 Kingman Dr.
Middleburg Hts, 44130-2620

Phone:

216-362-0775

E-Mail:
Download the 2014 Summer League Schdule - Click Here
---
Greater Cleveland Senior Softball (GCSS) is dedicated to the love of the game of softball. Promoting fun and recreation are two goals of this competitive league serving the Greater Cleveland area. GCSS is a non-profit organization staffed by dedicated officers and managers who donate their time and efforts. The league is sponsored by Kaiser Permanente.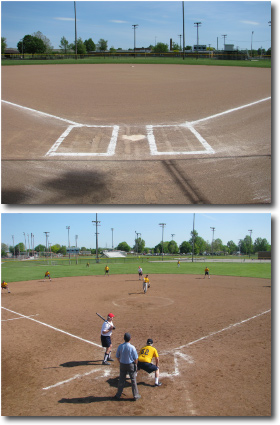 Players 55 and older are eligible. Games are played at the Kennedy Park Softball Complex 6161 Engle Rd on the Forbes and Hufsey fields located between Holland and Sylvia Dr in Brook Park, Ohio every Monday and Thursday morning starting at 10 AM. Two seven inning (double headers) will be played on each field.
Besides a regular season of 36 games, the league also includes a First Half vs Second Half Championship Series, a One-Pitch Tournament, and a double-elimination Playoff Championship. Teams are balanced before the season so that games remain competitive.
Recreational activities include post-game food days, an opening day luncheon, a Dinner Dance in September, and an awards luncheon. Sportsmanship, fair play, and camaraderie are emphasized. League Bylaws, Rules, and a Code of Conduct are revised and approved yearly.
Safety is emphasized with the use of a second first base bag and a separate home plate for runners. A Safety Screen is available for any pitcher that wants to utilize it. Collisions are not permitted and any runner violating this rule is called out.
Additional information about the league and its activities can be found on the other pages of this site.